WHO IS I.S.A.P ?
Intelligence Support Against Poaching





Prospectus


ISAP is a Section 21 Namibia Non Profit Company that aims to combat poaching through creating awareness, utilizing technology and gathering information (Intelligence), from various platforms, in support of the Namibian authorities (Ministry of Environment & Tourism – MET, Namibian Police Protected Resource Division), the Namibian Commercial Farming sector, Private reserves and various Conservancies.AS of 2019, ISAP has evolved to became increasingly involved in environmentally related projects. Main reason for this is environment conservation has many synergies to anti poaching, as well as these projects contributing to adding value to communities. By assisting communities and the local environment, ISAP builds trust and thereby creates a opportunity for local community members to report on any poaching activity.
AIM'S - (5 year plan…):
To be the leading anti poaching intelligence organization in Namibia:
1. By; being the driving force of synergies between Namibian organizations, working in collaboration with ISAP, which are involved in any form of conservation / anti-poaching efforts.
2. By; reducing the instances of all forms of poaching by means of Information gathering, intelligent strategies, provision of support, projects and leading technologies.
3. By; supporting these activities by means of soliciting national and international funding partners, as well as capitalizing on various commercial initiatives, the aim of which is to ensure sustainable funding now and in the future. These commercial initiatives will be of an environmental / anti-poaching nature thereby ensuring organizational funding through conservation based means!
OBJECTIVE'S - (How do we get there…):
1.Building Private Public Partnerships:
ISAP, as part of its 5-year objectives, has committed to be the driving force of synergies between Namibian organizations which are involved in any form of conservation / anti poaching i.e. establishing (Smart) Private Public Partnerships!
ISAP has already laid the foundation of Smart partnerships with the establishment of the umbrella organization –
Critical Mass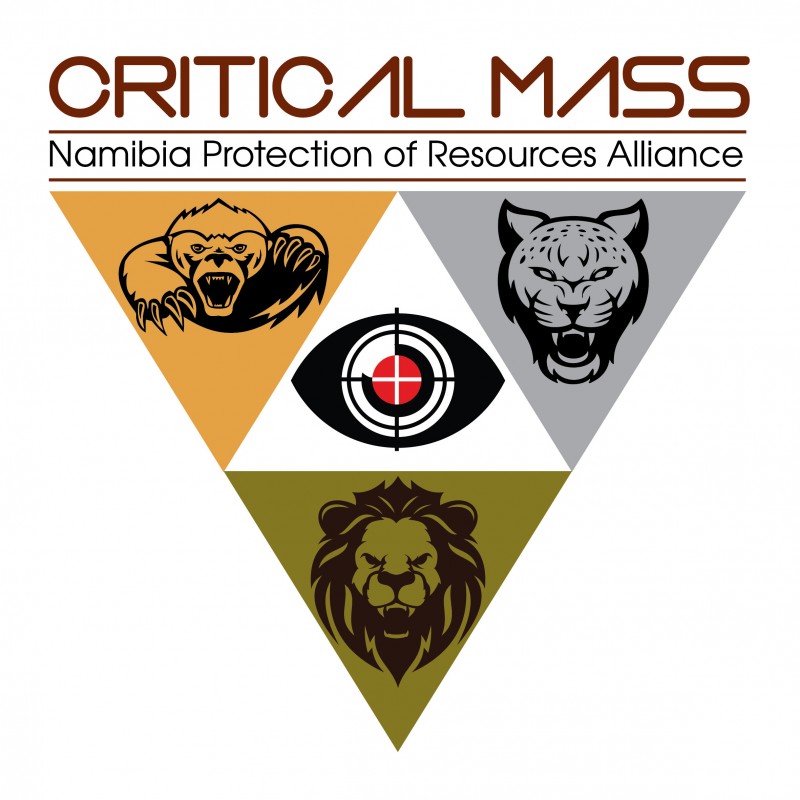 CRITICAL MASS
through its membership base will collectively aim to provide Namibian stakeholders with comprehensive "One stop" anti-poaching solutions. Included in ISAP capacity through its partners are the following capabilities:
Overt & Covert Intelligence / training / air support
Anti-poaching Units / tactical support
Tactical training and quick response capabilities
ISAP retains its Non Profit identity within this organization, being the focal point for information gathering and intelligence data base management as well as the driving force for new and innovative anti-poaching technologies.
ISAP is also the focal point for international volunteer training, as alluded to further along in this prospectus.
Previously ISAP was a member of the Namibian anti-poaching task team, under the direction of WWF / MET, and incorporates the Namibian Police PRD, Save Rhino Trust (SRT), Legal Assistance Centre (LAC), Namibia Nature Foundation (NNF).
a. Intel Platforms:
Information on poaching activities is gathered through:
Platforms -
Social Media / Website
Sources -
OVERT:
Volunteer Program / Tour operators / Farmers Unions / Conservancy representatives / ISAP community project beneficiaries etc.
COVERT (Clandestine):
National network of informants
At the core of ISAP and its overall objective of finding proactive solutions to poaching on a nation-wide scale, including that of all fauna & flora, is the key goal of establishing an intelligence-gathering network throughout Namibia.
There is a dire need for a national information-gathering platform, which is coordinated, centralized and driven by a specialized team. Currently there are organizations in Namibia who have / are embarking on their own intelligence gathering initiatives, which are typically very localized and based on selective species.
ISAP is currently underway with establishing an information network that provides intelligence to selected local Authorities and NGO's, on a national basis, and coordinated
from a central control point. To this end, ISAP has a temporary "operational center", located within Windhoek which will ultimately move out to its training & operations camp in the central region of Namibia. Finalization of the operational center is funding dependent.
Within the operations center, ISAP is running sophisticated intelligence software (ReSpond), currently being co-developed with a external software design entity, further details upon launch.
Key to the success of setting up the information network is the recruitment of intelligence specialists. To this end, ISAP has sourced and recruited a specialist, who is suitably qualified, experienced and committed to perform this function. This candidate was a senior Military staff officer with many years' experience on all levels of strategic intelligence network planning, training and implementation. As a result of in-depth research, as well as drawing on the experience of experts in the field, it is evident that this type of initiative can only be successful if driven by a highly experienced and motivated team on a full time (24/7/365) basis.
b. Technology Sourcing / Testing:
ISAP as part of its anti-poaching goals and objectives prioritizes and engages in sourcing, testing and the implementation of new technologies, in the fields of anti-poaching. Some of these technologies would include:
Drone Capabilities
Monitoring & Sensor Equipment
Observation (FLiR Thermal Imaging) Equipment
ISAP is well positioned to be a platform on which anti-poaching technologies are investigated, sourced and tested. To this end ISAP has already established some key strategic alliances with international technology-based organizations.
Through the ISAP directors and members, there are the varied skill sets needed to source and test different anti-poaching solutions. Amongst the ISAP directors we have qualified lawyers, engineers, pilots, company CEO's and field operations specialists.
This key focus area is however largely reliant on significant and sustainable funding, which largely is only available through the international community.
c. Air Wing (Ground & Air Support):
ISAP air-wing: currently ISAP owns a Piper Super Cub which can be used by anti-poaching / conservation organizations in their operations during anti-poaching operations, tracking & observation for conservation efforts, to name but a few.
It is ISAP goal to have the first Namibian airborne & ground, mobile command & control unit, working in conjunction with the following stakeholders:
1.Commercial Farm owners, Communal farmers and Conservancies combating poaching and stock theft.
2.Private game farms, Rhino Custodian farmers & reserves, Private reserves and Hunting farms.
3.The Namibian government authorities such as Ministry of Environment & Tourism (MET), Namibia Police & Traffic and other relevant Ministries and Directorates.
This unit would have the following as the core functions and services it could provide (Inter Alia):
1.Air support during anti-poaching operations, assisting with command & control, spotting and poacher suppression during pursuits.
2.Coastal patrols assisting with illegal fishing and off-road driving, monitoring of any illegal activities involving coastal marine resources.
3.Assist with search and rescue missions throughout Namibia.
4.Carcass location and mapping.
5.Various environmental programs or projects, which require air capability.
d. Local Intelligence Database
As alluded to previously, ISAP is currently underway with the development of local intelligence software platform (ReSpond), which is on one side a database platform and on the other side a command and control platform for assets in the field during anti-poaching operations. Development and role out being in done in collaboration with a external software design entity, detail upon launch.
ReSpond
gives ISAP the ability to draw reports based on current and historic information to proactively plan and execute anti-poaching initiatives.
As a APP based system, commercial properties, reserves etc, have access to the platform, which they can use to manage an extensive list of conservation based needs.
As a command and control platform,
ReSpond
provides the ability to track, monitor and communicate with different assets in the field, be it rangers, vehicle and air assets, in real time.
Once
ReSpond
is ready to "Go Live" (Mid 2019), the system will be rolled out across Namibia on farms, private reserves, commercial property's or wherever the system will be required to proactively manage the areas conservation efforts. Ultimately, we would want to the system to be used throughout Namibia, providing an extremely powerful tool to proactively plan anti-poaching initiatives.
Due to fluctuations of outside funding, ISAP has established its Commercial Arm, to ensure a source of sustainable internal income, to be used to finance day-to-day operational needs.
As part of the commercial arm, the following commercial initiatives have been identified and are currently in the role out process:
(See detail on site)
Community ProjectsBird ringing & awareness of value birds add to the environmentCamel Thorn tree planting project
Community borehole project
These commercial initiatives are constantly evolving and being added to, therefore ISAP will endeavor to update its progress on a regular basis!
Conclusion:
Namibia has the world's largest population of Black Rhinos and the second largest population of White Rhinos. Namibia is also home to strategic populations of Elephant, Lion,
Leopard, Cheetah and many other endangered fauna and flora, which if not conserved and protected NOW, will lead to many of the strategic species becoming critically endangered with real consequences of becoming extinct in the very near future!
Barring the fact that various wildlife species are endangered / critically endangered, ISAP recognizes the fact that the illegal poaching trade is driving massive profits to international
syndicates who in turn provide a funding channel for international terrorist organizations such as ISIS, Boko Haram etc.
It is therefore of paramount importance that ISAP provides as much support to Namibia's anti-poaching authorities, organizations and initiatives, as useable information is the corner stone of any anti-poaching activities, without which the war against poaching cannot make any headway.
It should be understood that without the custodianship of rural communities, the saving of wildlife against poaching will be in vain, and it is therefore critical to consider our wildlife and our people as inseparably linked.
In conclusion, without the support and funding from the local and international communities, ISAP cannot perform this critical service in support of the anti-poaching battle!